Jason and Terra hike to Wasson Peak.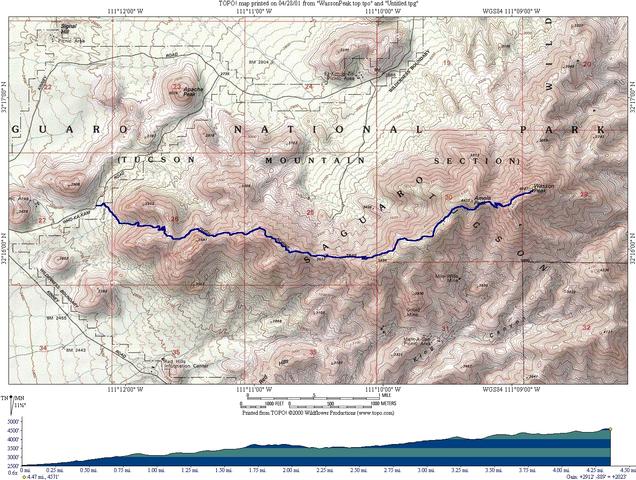 ---
DSCN0003.JPG
Here's us looking like dorks before heading out on the hike.
DSCN0004.JPG
A few hundred yards up the trail, looking back toward the car (NWish).
DSCN0005.JPG
Me, cool rocks, and cacti.
DSCN0006.JPG
Terra next to a rather large saguaro.
DSCN0007.JPG
Terra apreciates the local ethnicity of the flora.
DSCN0012.JPG
I look like I'm in extreme pain here.
DSCN0013.JPG
Kitt Peak National Observatory is one inch to the right of my finger.
DSCN0014.JPG
Me, ocotillo, wildflowers, and saguaro.
DSCN0017.JPG
Me and a barrell cactus this time.
DSCN0018.JPG
Terra along the trail.
DSCN0019.JPG
Pretty shot back along the trail into the valley to the North.
DSCN0024.JPG
Terra, just before the trail started going WAY up.
DSCN0025.JPG
A nice shot along the ridge we came up over.
DSCN0027.JPG
Almost there ! A shot from below Wasson peak looking East over the city of Tucson and over at the Rincon mountains.
DSCN0028.JPG
Looking over the radio towers at runways 11L and 11R at Tucson International.
DSCN0032.JPG
A shot from the top of Wasson Peak expansively looking over Tucson, with the Catalinas to the left (North) and the Rincons to the East(right).
DSCN0037.JPG
Heading down, the trail goes along the ridge here most of the way back to the car.
DSCN0038.JPG
Terra on the trail.
DSCN0040.JPG
Jason on the trail.